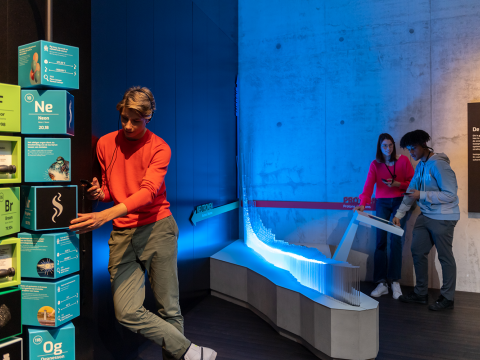 Learn and experience at Tabloo
Tabloo allows pupils to not only see billions of years into the past but also look far into the future. Time, in fact, plays an important role in the phenomenon of radioactivity. The role of Tabloo is to keep the memory of the nearby radioactive waste repository alive for 300 years and beyond. But how will it do this?
Visit Expoo
Pupils will go on a journey of discovery through the invisible world of radioactivity. They will learn what radioactivity is and what we do with radioactive waste. They will come to understand the concept of time and find out how the public can help to find solutions for radioactive waste. Finally, they become familiar with research into nuclear applications. 
With dozens of interactive exhibits, Tabloo's permanent exhibition offers pupils a unique insight into the world of radioactivity. A visit to the expo with an audio guide takes between 1.5 and 2 hours. If you would like to explore everything down to the last detail, you should allow around 5 hours. You can also book a guide, and the tour is two hours' long.
Download an exhibition plan below (which includes highlights) to help you make the most of your visit.
A message through time
Workshop for Level 1
Pupils will discover how they can send a message to future generations. They will determine the content of the message, the materials, the storage site, and the language or symbols. Pupils will discover that time is a complex concept and find out how long radioactive waste has to be stored in order to be safe. They will learn how many factors have to be taken into account in order to successfully send a message to future generations. The workshop is run by a guide from Tabloo.
Only available in Dutch and French.
The electromagnetic spectrum
Workshop for Level 1
Pupils will learn about the electromagnetic spectrum in a fun way. They will explore different types of waves and learn to put them in the correct order on the spectrum. Using examples from everyday life, they will come to understand that we use waves in different ways, but that they can also be dangerous. The workshop can also take an escape room format, where pupils try to decipher the code they are looking for in as few turns as possible. The workshop is run by an animator from Tabloo.
Only available in Dutch and French.
Repository Walk
For Levels 2 and 3 (14+)
Pupils will walk right up to the site of the future radioactive waste repository. While on this circular route (5 km), they will pass various nuclear repositories and discover where the materials and building techniques for the repository are tested. A guide from Tabloo will accompany you on the walk.
Available in Dutch and French. Availble in English from October 2023.
Hands-on in the lab
For Level 3 (16+)
Pupils carry out experiments with radioactive sources in our lab. These are entirely safe, of course. At the start of the session, they will watch a presentation on the safety rules and a short introduction. Working in pairs, they will then get to work on activities, using a tablet to enter and send in their results. Pupils will become familiar with the concept of half-life, the effect of ionising radiation, the energy of beta particles, and much more. The workshop is run by a guide from Tabloo.
Available in Dutch and soon in French!
Be the Disposal Expert
For Level 3 (16+)
Pupils discuss the possible construction of a geological repository in their municipality. They will reflect on the topic and practise different competencies: listening and processing information, searching for useful information, discussing in small groups, speaking before a group, and holding a debate. The pupils who make the best arguments will win the game! When the weather is fine, we can play the game outside. The game is led by a guide from Tabloo.
Available in Dutch and soon in French!
Request your visit
State when you would like to visit, how many pupils will be in your group, and what activities you would like to take part in. We will contact you once you have sent your request to confirm your visit. Your booking will not be deemed accepted until we have sent confirmation. An invoice will be issued for payment. Prices:
Expoo: €4 per pupil (teachers free of charge)
Guide for Expoo: +€100 (max. 25 pupils)
Workshops: €100 (max. 25 pupils)
Be the Disposal Expert game: €100 (max. 25 pupils)
Repository Walk: €100 (max. 25 pupils)
Breaktime in Bistroo
At lunchtime, pupils can be accommodated in a separate room in Bistroo to buy a drink. They can also eat their own lunch or buy a snack here. In fine weather, they may eat their sandwiches outside in the nature reserve.
What else is there to do in Tabloo?
Introo

Find out more about ONDRAF/NIRAS and the region's rich nuclear history.

Nature reserve

Take a breather, discover a stunning natural landscape, and enjoy a walk by the river.

Panoo

Enjoy a stunning panoramic view of the surrounding area from the rooftop of Tabloo.
Practical information about Tabloo
Getting here
Gravenstraat 3, 2480 Dessel.
Charging facilities for electric bicycles and cars (3).
Parking
Ample free parking for bicycles, cars and coaches.
Accessibility
All areas accessible to buggies and wheelchair users.
Tickets
To be sure of gaining entry, it is best to buy your ticket online. On-site electronic payment only. Schools and groups can request their visit in advance.
Opening hours
Tabloo is open on weekdays (9am–5pm) and on Sundays (10am–5pm). Last admission is at 4pm.
Facilities
Free WiFi throughout the building. Cloakroom and lockers with electronic code.