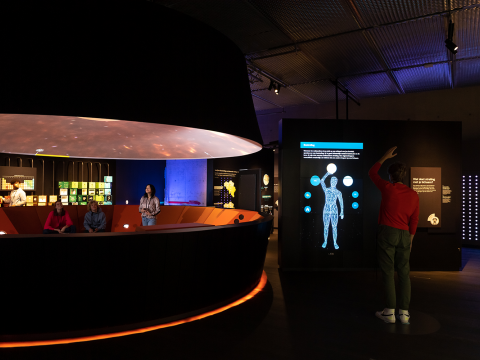 Visible or invisible?
Experience the phenomenon of radioactivity.
Discover how radioactive waste is produced and how we manage it. Find out about the challenges we face and how the public can help to find solutions.
Learn all about what research is currently underway in the field of nuclear applications.
Just a taster: Be sure not to miss these exhibits!
The very beginning

Step under the dome and experience the Big Bang. Discover how the universe began, how chemical elements were formed, and what causes radioactivity.

(in)visible radiation

See how invisible radiation becomes visible after all. Test out which material offers the best protection against which type of radiation.

The effects of radiation

Make a 3D scan of yourself. Choose a situation, then experience for yourself what the effects of ionising radiation are on your body.

The journey of radioactive waste

Follow the journey of radioactive waste in the form of a visual 3D show. Discover exactly what everyday waste management involves.

Geological disposal as a solution

Descend (virtually) 225 metres down to the HADES underground lab and find out for yourself about the possibilities offered by geological disposal.

The evolution of our thinking

Enjoy a lie down while you follow the debate on the ethical and societal aspects of geological disposal.

Discovering nuclear applications

Pull open the drawers and panels of the nuclear research cabinet and discover how dozens of activities are providing a better future.

Time travel and alchemy

Start up the BR2 research reactor and speed up time. Search for links to our safety, health, and renewable energy.
Plan your visit
The permanent exhibition includes around 40 exhibits, grouped into 4 themes: the phenomenon of radioactivity, radioactive waste management, humans and time, and research into nuclear applications.
It's entirely up to you how long you spend at the expo. We recommend you should certainly allow for 1.5 to 2 hours. If you would like to explore everything down to the last detail, you should allow around 5 hours. You can also book a guide, and the tour is two hours' long.
An audio guide is included in your admission ticket. An adapted audio guide is available for children aged 8 and over.
Download an exhibition plan below (which includes highlights) to help you make the most of your visit.
What else is there to do in Tabloo?
Repository Walk

See for yourself the place where radioactive waste will be safely and permanently disposed of.

Park & Playground

Stretch your legs in the park while the kids play to their hearts' content in the playground.

Bistroo

Enjoy a drink, a snack or a full lunch. With a large outdoor terrace and a view of the playground

Introo

Find out more about ONDRAF/NIRAS and the region's rich nuclear history.

Panoo

Enjoy a stunning panoramic view of the surrounding area from the rooftop of Tabloo.

Turismoo

Discover all that the Antwerp Campine region has to offer.
Practical information about Tabloo
Getting here
Gravenstraat 3, 2480 Dessel.
Charging facilities for electric bicycles and cars (3).
Parking
Ample free parking for bicycles, cars and coaches.
Accessibility
All areas accessible to buggies and wheelchair users.
Tickets
To be sure of gaining entry, it is best to buy your ticket online. On-site electronic payment only. Schools and groups can request their visit in advance.
Opening hours
Tabloo is open on weekdays (9am–5pm) and on Sundays (10am–5pm). Last admission is at 4pm.
Facilities
Free WiFi throughout the building. Cloakroom and lockers with electronic code.