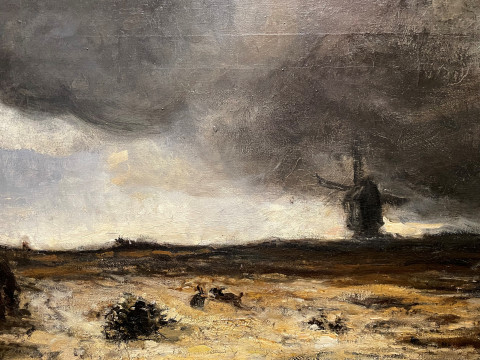 Landschap in verandering
Jakob Smits Museum & Tabloo
Tijdelijke tentoonstelling
Jakob Smits Museum - Landschap in verandering
Al werd hij in de pers vaak 'de kluizenaar van Achterbos' genoemd, Jakob Smits had wel degelijk de vinger aan de pols van zijn tijd. Hij zag het landschap veranderen, ook in de 'afgelegen' Kempen. Hij maakte zich weleens druk over wat verloren ging, maar begreep ook dat vernieuwing nodig was, en onafwendbaar. Het landschap was veel meer dan een mooi plaatje voor hem. Het landschap stond voor de verbondenheid van de mens met de wereld, voor het leven zelf. En ook de moderniteit kreeg daarin, geleidelijk, een plaats.
Geen betere locatie om Smits' veranderend landschap te ondergaan dan in Tabloo, waar de moderniteit hoogtij viert. Nu het Jakob Smitsmuseum verbouwd wordt, gaat Jakob buiten de muren, resoluut en onvervaard. Kom kijken!
Ontdek de wandeling van Jakob Smits
Download hieronder de wandeling die je meeneemt doorheen de landschappen van Jakob! 
Praktische informatie
In Tempoo, de tijdelijke tentoonstellingsruimte van Tabloo, Gravenstraat 3, 2480 Dessel.
Tarieven:
Basistarief: €5
- 25: gratis
+ 65: €4
Combiticket (Smits + Tabloo): €10
Practical information about Tabloo
Getting here
Gravenstraat 3, 2480 Dessel.
Charging facilities for electric bicycles and cars (3).
Parking
Ample free parking for bicycles, cars and coaches.
Accessibility
All areas accessible to buggies and wheelchair users.
Tickets
To be sure of gaining entry, it is best to buy your ticket online. On-site electronic payment only. Schools and groups can request their visit in advance.
Opening hours
Tabloo is open on weekdays (9am–5pm) and on Sundays (10am–5pm). Last admission is at 4pm.
Facilities
Free WiFi throughout the building. Cloakroom and lockers with electronic code.